LOCALLY OWNED BUSINESS – RIVER TOWN ELECTRIC RECEIVES 2020 HIRE VETS MEDALLION AWARD FROM U.S. DEPARTMENT OF LABOR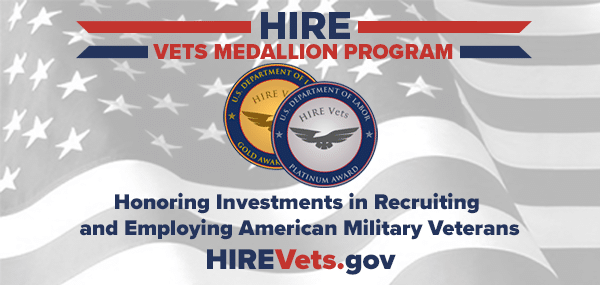 November 10, 2020 – U.S. Secretary of Labor Eugene Scalia recognized River Town Electric as one of the 675 recipients of the 2020 HIRE Vets Medallion Award during an award ceremony at the U.S. Department of Labor. River Town Electric earned the Gold Award after applying earlier this year. The Honoring Investments in Recruiting and Employing American Military Veterans Act (HIRE Vets Act) Medallion Program is the only federal award program that recognizes job creators who successfully recruit, hire, and retain veterans.
"As a Veteran myself, I understand the qualities and skills a Veteran can bring to the table. I believe it's very important to give fellow Veterans as many opportunities as possible to obtain gainful employment . " – Nicholas Dobbs, Owner.
River Town Electric joins 674 other companies from 49 states, plus the District of Columbia, who have shown a commitment to hiring veterans, but also ensuring that they have a long-term career and growth plan that uses the diverse skills they acquired through their military service.
The HIRE Vets Medallion Award is based on a number of criteria, ranging from veteran hiring and retention to providing veteran-specific resources, leadership programming, dedicated human resources, and compensation and tuition assistance programs – with requirements varying for large, medium, and small employers.
River Town Electric was started in Gallipolis Ohio in 2017 by Marine Corps Combat Veteran Nicholas Dobbs. The company specializes in residential, commercial and industrial electrical services. Licensed in Ohio, West Virginia and Kentucky, River Town Electric employs an experienced team of expert management staff and technicians that can accomplish any job, from minor repairs to major electrical projects. River Town Electric is also a certified Generac Generator dealer and recently began installing Solar Equipment.
About the HIRE Vets Medallion Program
The HIRE Vets Medallion Award is earned by leading businesses that demonstrate unparalleled commitment to attracting and retaining veterans. The 2021 HIRE Vets Medallion Program will open to employers on Jan. 31, 2021. For more information about the program and the application process, visit www.HIREVets.gov.